In recent years, Canada has been viewed by HR industry observers as a key competitor with the U.S. in attracting both talent and organizations, largely due to immigration-related reasons. Inability to secure work authorization for highly skilled talent was a "primary driver" for employer's decisions to expand to new geographies, according to a 2020 Envoy Global report. The same report found 74% of employers considered Canada's immigration policy to be more favorable than that of the U.S.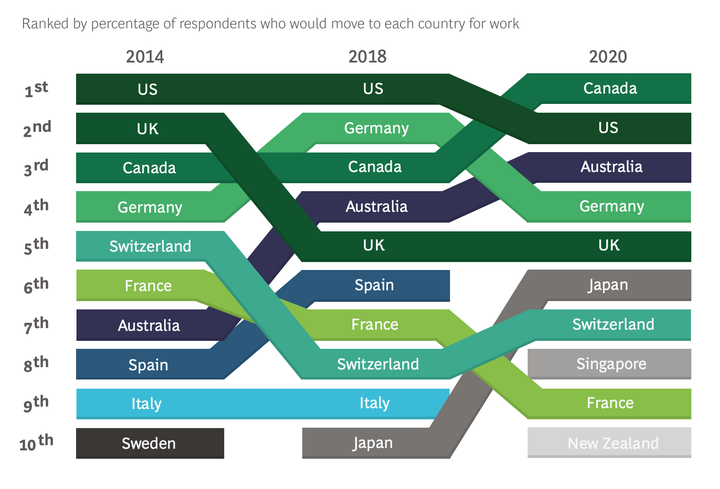 H-1B visas are a point of contention in the employment space. Employer demand typically exceeds the federal government's cap on the visa. The Trump administration also attempted to make changes to the Department of Homeland Security's process for selecting H-1B visas, including a final rule that would have shifted selection from a lottery-based selection process to one that utilized a "wage level ranking" system, but the Biden administration delayed the rule.
While President Joe Biden aims to expand the number of employment-based green cards issued by the U.S., the current administration is dealing with competing interests on H-1B visas, which have drawn opposition from organized labor groups, Bloomberg reported in February.
Moving to other countries is not always a simple prospect for employers, either. Sources previously told HR Dive that organizations must also account for local labor laws as well as differences in business structure and office setups.
The ability to work remotely may also open opportunities for those who wish to work for an employer in another country. More than half of the respondents to the BCG survey said they were willing to work remotely for an employer that doesn't have a physical presence in their home country.
---
News Source: HR Dive